Combination Automat Wapo-Ex 8 Plus
Wax scalding and polymerisation all-in-one.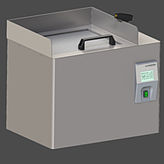 NEW: 170977
Downloads
Links
Range of application:
The Wapo-Ex 8 plus enables the automatic boil out or polymerisation of up to 8 flask halves, simultaneously and fully automatically. The relevant parameters are at once visible on the touch screen, the input can be made intuitively. The user can adjust the numerous parameters and options (such as week timer) to his individual requirements by simple programming.
Major features at a glance:
Compact tabletop automat for boil out or polymerisation up to 8 flask halves
Fully automatically
Reliable polymerisation results
Convenient boil out process, easy access to flask baskets
Spray system in the middle, easy to mount/ dismount
Quick exchange of both functions boil-out and polymerisation
Touch screen for fast and easy operation
Integrated timer
Optical and acoustic lack of water warning
Low water cut-out in order to protect the heating
Thermostat protected, gasketless submersible pump, silent and maintenance-free
For manual scalding: Integrated hand spray made of non-conductive plastic, lowered lid and all-round splash protection made of stainless steel
Easy to clean without tools
Designed for long durability
High quality construction, most parts made of stainless steel
Energy saving thermal insulation
Included in delivery:
Service set (4 filter mats, 1 L lime remover, 2 L wax remover)
Discharge hose, 1.5 m
Hose clip Ø 20-32 x 12.2
| Technical Specifications: | |
| --- | --- |
| Voltage | 220–240 V / 50/60 Hz |
| Power consumption | 9 A |
| Output | 2000 W |
| W x H x D max. | 660 x 585 x 480 mm |
| Weight | 41 kg |
| Sound level | ≤ 70 dB (A) |
| Water capacity | 21 l |
For spare parts / accessories store:
article number 170977 : Boil Out and Polymerisation Unit Wapo-Ex 8 Plus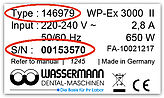 Example of an identification plate at your device
Type = item number
S/N = serial number
The serial number allows us to find quickly without any doubt the correct answers for the needs of your machine. The identification plate is located on the back or right side of your unit.